Camp Nou is an iconic football stadium located in the bustling city of Barcelona, Spain. Home to the world-renowned FC Barcelona, this stadium holds a special place in the hearts of football fans and the people of Barcelona alike. With a rich history spanning over six decades and a recent transformation, Camp Nou is more than just a sports venue – it is a symbol of the city's passion for football and a must-visit destination for any sports enthusiast or curious traveler.
History and Evolution
Originally inaugurated in 1957, Camp Nou has witnessed countless memorable moments and milestones that have shaped the history of football. The stadium has been the battleground for FC Barcelona's numerous domestic and international triumphs, including their numerous La Liga titles, Copa del Rey victories, and UEFA Champions League wins. Camp Nou also hosted matches during the 1982 FIFA World Cup, including the opening game and several knockout stage encounters.

Throughout the years, Camp Nou has welcomed legendary players such as Johan Cruyff, Diego Maradona, Lionel Messi, and many others, who left their indelible mark on the football world. Its rebranding as Camp Nou in the early 2020s marked a new era for the stadium, as it underwent significant renovations to adapt to the changing needs of modern sports facilities and to create a more sustainable and accessible environment.
Renovation and Modernization
The extensive renovation and modernization of Camp Nou included a redesign of the stadium's façade, the expansion of seating areas, the construction of a new roof, and the incorporation of state-of-the-art technology. The stadium's capacity expanded to accommodate over 105,000 spectators, making it one of the largest football venues globally. The modernization also focused on sustainable design elements, such as the installation of solar panels and rainwater collection systems to minimize the stadium's environmental impact.

Improvements in accessibility were another priority, with new ramps, elevators, and designated seating areas for people with disabilities ensuring that all visitors can enjoy the stadium experience. Enhanced Wi-Fi connectivity, new digital screens, and updated audio systems were also implemented to keep fans connected and engaged during matches and events.
Stadium Facilities and Amenities
Camp Nou boasts a wide range of facilities and amenities, ensuring a comfortable and enjoyable experience for all visitors. The stadium features various seating options, including general admission areas, premium seats, and exclusive VIP lounges that offer an unparalleled matchday experience. World-class restaurants, bars, and concession stands provide a diverse array of dining options, ranging from traditional Catalan cuisine to international favorites.

Unique features such as sustainable energy systems and improved accessibility infrastructure further enhance the visitor experience. The stadium also has ample restrooms, designated smoking areas, and a dedicated customer service team to assist with any inquiries or concerns.
Museum and Tour
The FC Barcelona Museum, housed within the stadium premises, offers an immersive experience for football lovers and history buffs alike. The museum showcases the rich history of the club, featuring memorabilia, interactive exhibits, and multimedia presentations that highlight key moments, legendary players, and iconic trophies. Visitors can also enjoy a guided stadium tour that takes them through behind-the-scenes areas such as the locker rooms, press room, players' tunnel, and the iconic pitch. This unique experience provides a glimpse into the lives of the world's most famous footballers and the history that shaped FC Barcelona.
How to Get there and parking
Reaching Camp Nou is convenient through public transportation, with the metro, buses, and trams providing easy access. The nearest metro stations are Palau Reial and Les Corts (Line 3), while multiple bus lines serve the stadium area. The Trambaix tram system also connects to the stadium, with the Zona Universitària stop being the closest. Driving to the stadium is also an option, with multiple parking facilities available nearby, including both on-street parking and dedicated parking lots. Keep in mind that parking can be limited on match days, so consider arriving early or using public transportation to avoid congestion.
Upcoming Matches and Events
Camp Nou hosts a variety of matches and events throughout the year, including La Liga, UEFA Champions League, and Copa del Rey fixtures. Additionally, the stadium occasionally hosts concerts, cultural events, and other sporting events such as friendly matches and charity games. Visit the official FC Barcelona website for a schedule of upcoming matches and events, and book your tickets in advance to ensure a spot at your desired event.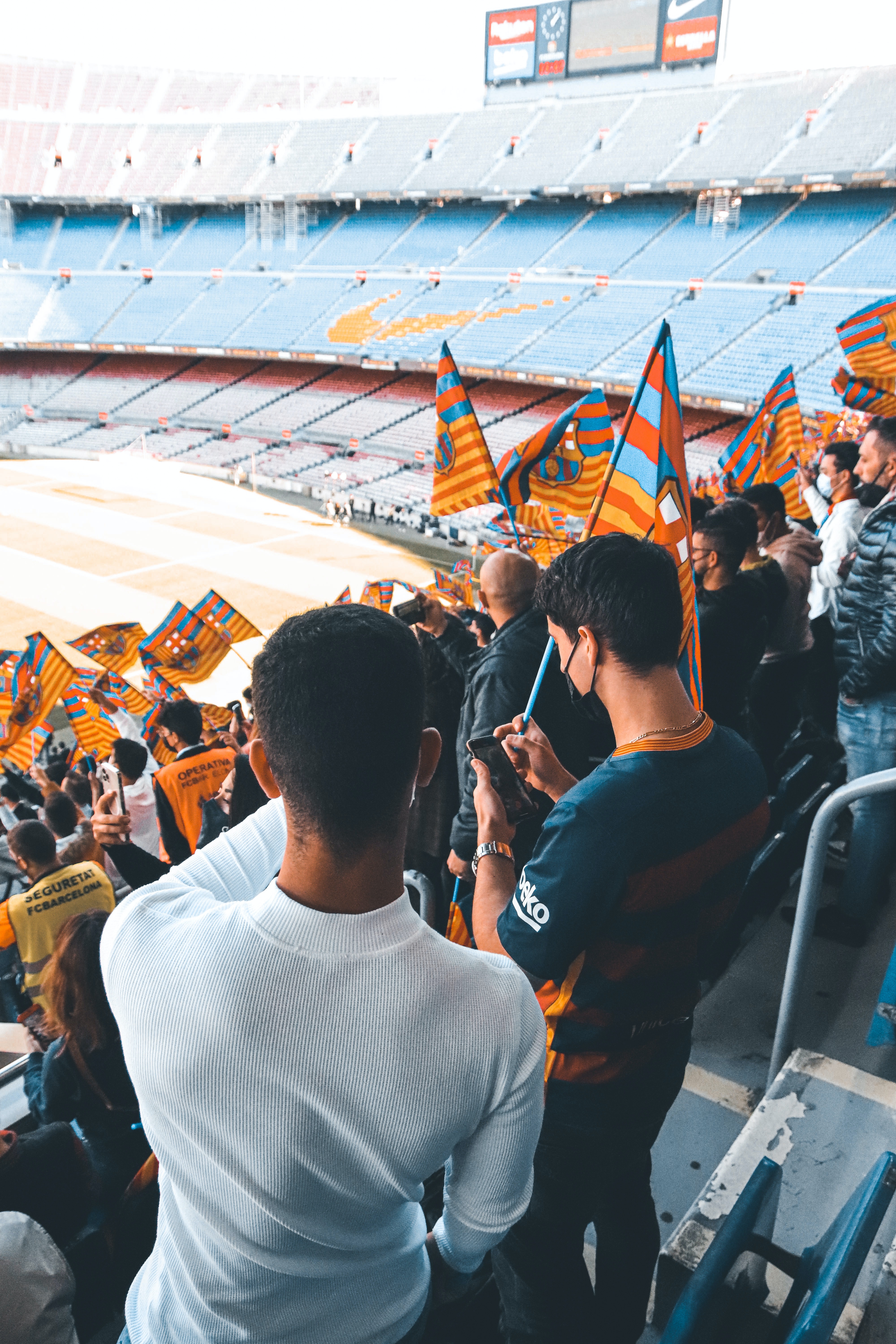 Next game
vs
Attractions Near Stadium
The area surrounding Camp Nou offers a wealth of attractions to explore before or after your stadium visit. The beautiful Parc de Cervantes is a nearby haven of greenery that features a stunning rose garden and numerous walking paths. The vibrant L'Illa Diagonal shopping center, located just a short walk away, is a shopper's paradise, offering a wide variety of shops, restaurants, and entertainment options.

For those interested in culture and history, the captivating Pedralbes Monastery is a must-visit attraction that provides a glimpse into the lives of medieval nuns in Catalonia. Nearby accommodations range from luxury hotels like the Fairmont Rey Juan Carlos I to budget-friendly hostels and guesthouses, catering to all types of travelers and budgets.
Tips for Visitors
When planning your visit to Camp Nou, consider the following tips to make your experience as enjoyable as possible:
Arrive early to avoid crowds, explore the stadium surroundings, and enjoy pre-match activities.

Familiarize yourself with security guidelines, such as bag size restrictions, prohibited items, and entry procedures.

Check local customs and practices, such as the traditional Catalan flag display during matches or the stadium-wide chant of "Barça, Barça, Baaarça!".

Be prepared for variable weather, especially during the winter months, and bring appropriate clothing, including rain gear if necessary.

If you're planning to buy souvenirs or merchandise, visit the official FC Barcelona store located at the stadium or in the city center.
A visit to Camp Nou is an unforgettable experience for football fans, casual visitors, and history enthusiasts alike. With its rich history, state-of-the-art amenities, and a range of attractions both inside and outside the stadium, Camp Nou truly represents the spirit of FC Barcelona and the vibrant city it calls home. Whether you're attending a high-stakes match or simply exploring the museum and taking a guided tour, the thrilling atmosphere of this iconic venue is sure to leave a lasting impression. Don't miss the opportunity to immerse yourself in the world of football and experience the magic of Camp Nou firsthand.